Initial Startups: Behind the Scenes #2 – Twofold
Soon-to-be Entrepreneurs or aspiring to be one?
Ever wondered what went on 'behind-the-scenes'?
For those who had miss out Startup Jobs Asia's Initial Startups – Behind the Scenes Series 1, here's Series 2! Learn about the challenges, planning processes and more from the Startups Startup Jobs Asia had interviewed!
For our 1st interview, we've gotten the Founder of Twofold, Mohamed Rushdy and TwoFold's pioneer employee, Kelvin He (Back-End Developer) to share with us on their experiences and of course, what went on behind-the-scenes!

Starting a Startup, there are questions to think about like when you decided to hire, what type of team members you are looking for, how do you go about finding the team.
Like for TwoFold, they were specifically looking for people who like to learn or enjoy teaching people. Unlike most, Twofold didn't see the need to go through resumes for a start. They chit chat.
"What movies do you enjoy?"
"What kind of music do you listen to?"
"How do you spend your free time?"
Also, they asked these potential candidates to do a test on Keirsey.com which gave them an idea on how these candidates communicates. Only if they fit into the Twofold's culture, then yes… next would be their resume.
Thus, sometimes we hear people asking…
"Should we hire for their personality or their skills?" It really depends on the position the Startup is hiring for. What do you think?
Challenges in talent acquisition are inevitable. So what was Twofold's?
"The challenges upfront were to get people who fit the culture. Every time we put out a job offer we got responses but rarely the types we need." – Rushdy
Turning to Kelvin, What about Twofold that attracted him to join them?
"I was looking for an internship and decided to join a startup to get as close as possible to various aspects of running a company. I picked Twofold because I value skills and teaching. Also, the founders seemed like nice people."
Next to think about is what plans would you be inputting for these successful hires?
"We got them to create a course on Twofold then asked them how they would improve the process and if they could sell the product to us, regardless of which positions they were hiring for. We have a philosophy at Twofold whereby everyone is a salesperson and is required to be able to pitch and sell the product." – Rushdy

Now at Twofold, they are creating a "Welcome to the Tribe" handbook for all new hires that explains their values and vision and the shortlisted applicants can book their pitching date with them.
And next we learned about the difficulties Kelvin faced…
"It was hectic and I got calls at odd times. Many times I was doing many things at the same time although the founders at Twofold ensured that my specific role was not disturbed. Payment was delayed from time to time but Nity (Founder of Twofold) was honest when it had to be delayed. I think it is best to like both the idea and the people you are working with or else a startup can get stressful really fast."
What about the role (Back-End Developer) that he had taken on? Has it differed?
"I was forced to sell Twofold. I am primarily a front-end developer but I can sell pretty well now. Sometimes I was even forced to do sales calls with corporate clients. It was a little out of my comfort zone but I have learnt to enjoy it" said Kelvin.
Coming to the end of the interview with Rushdy and Kelvin, we asked Rushdy if he has any advice to fresh entrepreneurs out there looking to form their first core team and here is it:
"Do not hire because you "think" you should have a team or because you have cash in the bank. Be sure about the multiple (yes always multiple in a startup) roles each person can play. Hire for attitude. Grab a drink (or whatever is equivalent) to understand the personality of the shortlisted candidates before deciding."
And from Kelvin to those who are contemplating to join a Startup:
"Like the idea, role and people you are joining for. Be clear when your primary job needs to be attended to and be open to learning and doing things outside our skillset. It is almost a pre-requisite for a startup job."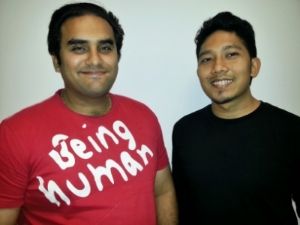 Photo: (left) Founder, Nityanand Rai and (right) Founder, Mohamed Rushdy
(Kelvin is not available to provide his photo at time of publishing.)
~
Article contributed by Startup Jobs Asia's Team.
Follow Startup Jobs Asia at:
Facebook  |  Twitter  |  Google+  |  Linkedin  | YouTube  |  Pinterest